NEWS ARCHIVE

AAXA Introduces M1 Ultimate Micro Projector
October 18, 2010
AAXA Technologies is excited to introduce the M1 Ultimate Micro Projector. The M1 Ultimate is housed in a sleek brushed aluminum case giving the M1 Ultimate a sharp, modern look. New features include a new onboard back-lit keypad for direct user interface while retaining the added flexibility of the remote control (included). The new aluminum case features a tripod mount (tripod included), which combined with digital vertical keystone improves viewing flexibility.
The AAXA M1 Ultimate micro projector employs AAXA's revolutionary micro optical engine which incorporates high-output LEDs along with advanced light recycling technologies. This system yields a peak brightness of 75 lumens, has 800x600 (SVGA) resolution, good color quality, and excellent image clarity and sharpness. Even with such premium components, AAXA has achieved a low $299 MSRP.
With the improved features the AAXA M1 Ultimate Edition remains the most powerful micro projector with onboard Media Player capabilities in its class. Optional accessories such as a 1.5 hour battery pack remain fully compatible with the M1 Ultimate Edition as the power requirements stay the same. The M1 Ultimate Edition is only available through AAXA Technologies retail site and select resellers.

UPDATE - 5/23/2011 - M1 Ultimate-X Now Available

Shipping Now! Only $249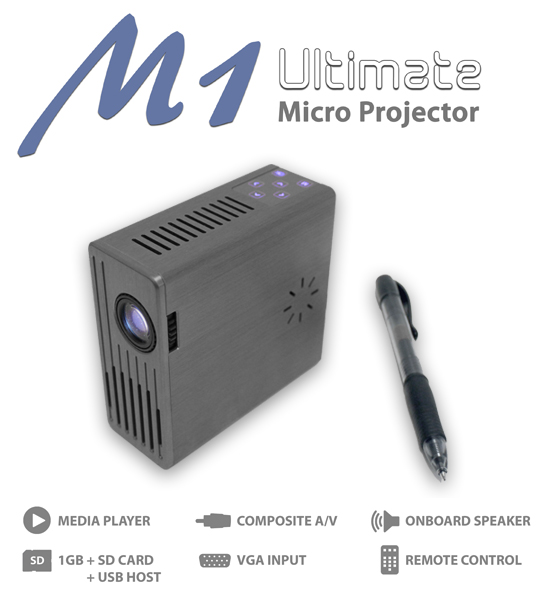 ---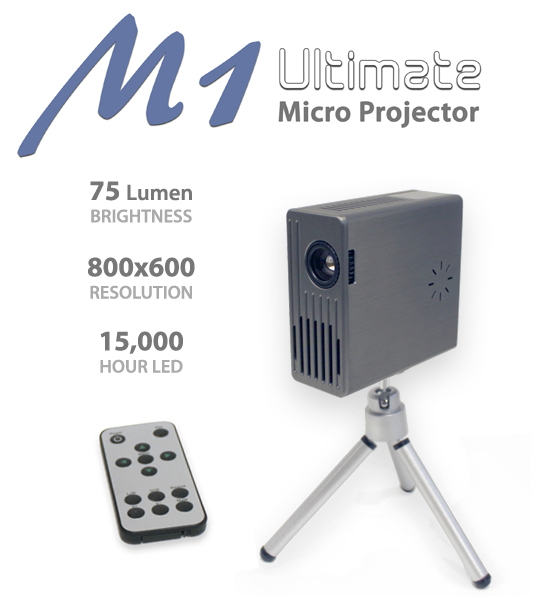 CONTACT US
AAXA Technologies, Inc.
1541 Parkway Loop, Suite F
Tustin, CA 92780
Phone: (714) 957-1999
Fax: (714) 242-6712
Email:
info@aaxatech.com