NEWS ARCHIVE

AAXA Technologies announces a 960x540 resolution LED Pico Projector priced at $119 featuring LCoS (Liquid Crystal on Silicon) technology!




AAXA's LED Pico Projector now features 25 Lumens, HDMI Input, and a low price point
Tustin, CA August 13, 2013


AAXA Technologies a global leader in pico projection technology is excited to announce the AAXA LED Pico a low-cost 25 Lumen Pico Projector with best-in-class resolution. Designed as a gadget for today's discerning mobile technology user the AAXA LED-Pico features a lofty 960x540 (qHD) native resolution made possible through LCoS (Liquid Crystal on Silicon) technology and mated to a 15,000 hour LED light source. At just 4.25" x 2.36" x 0.7" the LED-Pico is about the same size as most cell phones, yet is capable of delivering a stunning 60" image in dark environments.

Native qHD (960 x 540 pixels)

The LED Pico supports a high native resolution that allows for sharper, more detailed images. When enlarged, the LED Pico will provide a crisp image up to 60 inches.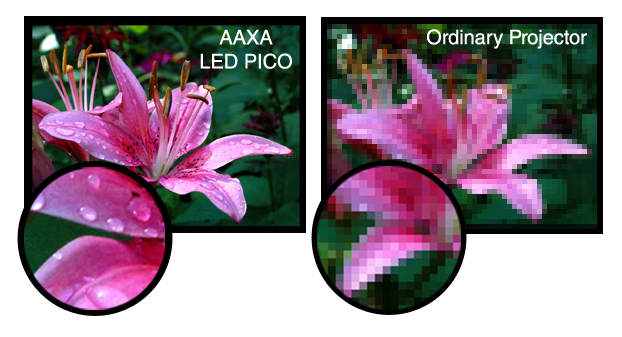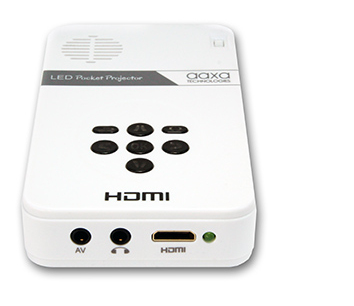 HDMI Direct Input
The LED-Pico accepts both a High Definition digital video input of up to 1080P (1920x1080) through its mini-HDMI port as well as traditional composite video its AV port. Compatible video sources include cell phones, tablets, blu-ray players, and video game consoles.
Lithium Ion Battery
The LED Pico comes with a built-in rechargeable lithium ion battery. With this battery the LED-Pico can operate in both battery and DC power mode. Battery operating time is 80 minutes on a single charge or indefinitely when plugged into a USB power source capable of delivering 1A*
Media Power House
The AAXA LED-Pico Projector lets users spontaneously share photos, videos or other digital media with family and friends anytime, anywhere. With its powerful ARM-based Media Player the LED-Pico can play 720p Videos, Pictures, and even Text and Music from a USB stick or Micro SD Card of up to 16GB. With the LED-Pico an entire library of movies can be preloaded for playback.
The Best Bang for the Buck Pocket Projector
At half the price of similar pocket projectors the LED-Pico is the best-value pico projector on the market without tradeoffs or compromises. Featuring best in class resolution the LED-Pico offers a host of other features including onboard media player, HDMI and Composite Video input, and 2 hour battery life
About AAXA Technologies
AAXA Technologies Inc was founded in 2008 as a developer and manufacturer of a new class of projector known as "micro" projectors and "pico" projectors. AAXA's core technology is based on small LCoS (Liquid Crystal on Silicon) and DLP (Digital Light Processing) imagers mated to LED (light emitting diode) and Laser light-sources that makes micro projectors and pico sized projectors possible. In 2010 AAXA launched the world's first laser pico projector and today remains a leader in mini-projector technology. AAXA holds several patents in optical and LCoS designs and manufactures the majority of its products in China, with core technological development occurring in both the Silicon Valley, California and China.
The AAXA LED Pico is available for sale at www.aaxatech.com for $119 and through our excellent retail partners.

MORE INFO - PRODUCT SPECIFICATION PAGE

MSRP: $149.00

Only $119.00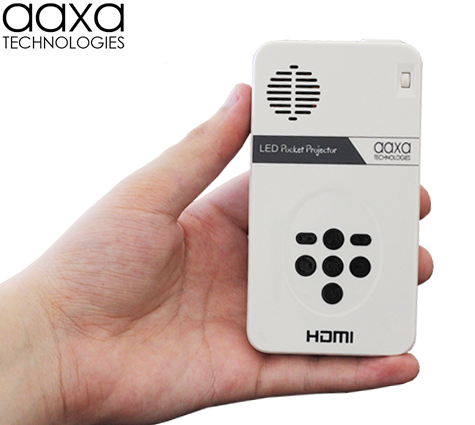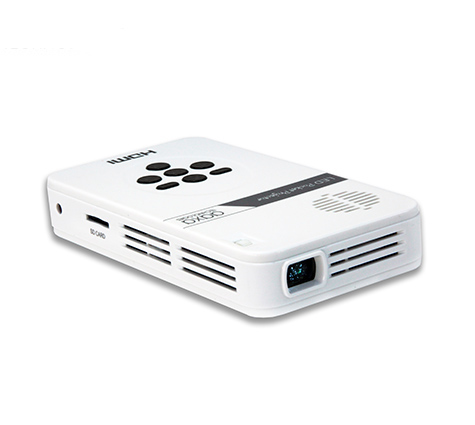 CONTACT US
AAXA Technologies, Inc.
17691 Mitchell N.,
Unit #B;
Irvine, CA 92614
Phone: (714) 957-1999
Fax: (714) 242-6712
Email:
info@aaxatech.com