NEWS ARCHIVE

AAXA P1 / P2 Pico Projector to Apple iPhone, iPod, iTouch A/V Cable Now Available
November 10, 2009
AAXA Technologies Inc is pleased to announce the release of our Apple Iphone, Ipod cable. The new iPhone, iPod cable allows Apple iPhone / iPod / iTouch users to connect directly to AAXA's P1 and P2 pico projectors. The new cable connects directly into the Apple 30-pin connector port and allows users to project iPhone / iPod video, music, and pictures directly to the AAXA P1 and P2 micro projectors without the need for any additional cables.
Furthermore, the AAXA cable incorporates a genuine Apple authentication chip. A genuine authentication chip is necessary to ensure compatibility with all current and future iPhone / iPod / iTouch models and firmware versions and to ensure that the cable does not create a conflict with these new devices.
The AAXA iPhone, iPod, and iTouch cable begins shipping November 18, 2009.
All previous iPod cables have been discontinued at this time.
AppleT is a registered trademark of Apple Inc.
MSRP: $19.99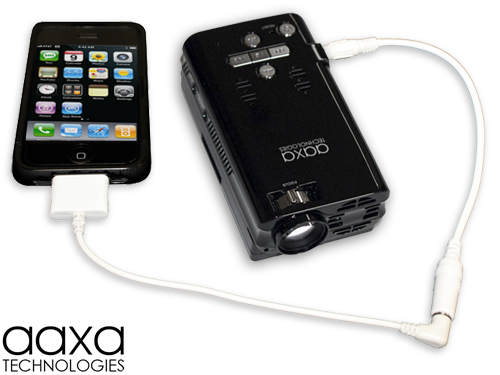 CONTACT US
AAXA Technologies, Inc.
1541 Parkway Loop, Suite F
Tustin, CA 92780
Phone: (714) 957-1999
(714) 957-1987
Fax: (714) 242-6712
Email:
info@aaxatech.com