| | | |
| --- | --- | --- |
| | | |
Product Brochure Review It! Program Contact us

for wholesale inquiries

World's Smallest 300 Lumen Pico Projector




Compact Higher Power Projector
300 Lumen DLP Optical Engine
1280x720 Native Resolution
20,000 Hour LED Light Source
135 Minute Lithium Ion Battery
Onboard Media Player
Play Videos and Pictures anytime anywhere

MSRP: $399.00

$319.00

*Free Shipping*

$249.99

Why Refurbished?




---
More Performance, Features, and Value - The New AAXA P5 Delivers Best-In-Class Experience for Business Presentations and Home Theater Applications


The AAXA P5 is the World's Smallest 300 Lumen Pico Projector. It revolutionizes mobile projection by mating a lithium ion battery with LED Projection technology. This union creates a no compromise portable projector that can deliver high quality images both plugged in or on battery power. With it's third generation optical system, the P5 features a brilliant 300 Lumen optical engine powered by 20,000 Hour Vibrant Color LEDs and a native HD resolution of 1280x720. This optical power house enables the P5 to deliver vivid 120" displays in dark areas and usable displays in brightly lit areas - a first for mobile projection.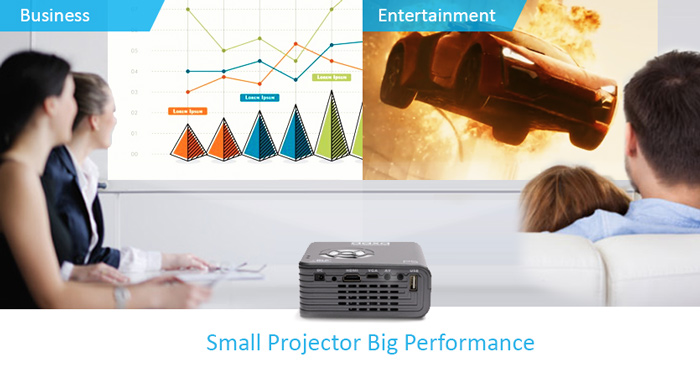 135-Minute Battery Life
---
The AAXA P5 revolutionizes mobile projection with it's onboard lithium ion battery that enables anywhere-anytime projection. Powering this system is a game changing lithium ion battery that supports a 135 minute operating time (in eco brightness mode)* and produces over 3 times the brightness of other battery powered projectors. Also built-in to the P5 is a "premium grade" battery that is designed to retain 85% of it's charge over 1000 charge cycles. The AAXA P5 Pico projector now gives anyone the ability to deliver long presentations or enjoy a full-length movie without cords!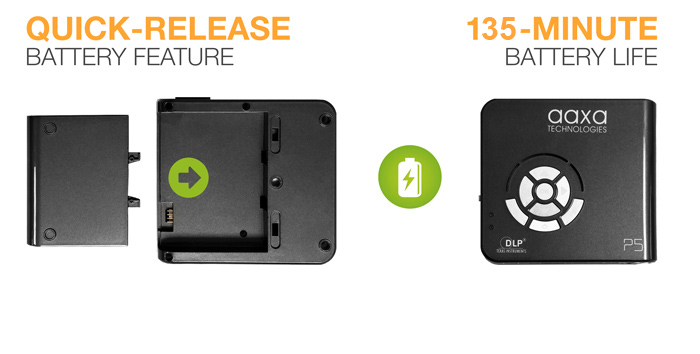 True HD 720P Resolution
---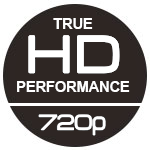 The P5 LED Pico Projector delivers a stunning true HD 1280x720P native resolution through a state-of-the-art Texas Instruments DLP HD resolution imager. No resolution gimmicks are employed (up-scaling, pixel turning, optics vibration) - what you see is what you get.
All In One Mobile Media Powerhouse
---
Directly onboard is a powerful media player that lets users share photos, videos, and other digital media with family and friends anytime, anywhere. The powerful ARM-based processor enables native playback of 720P high resolution videos, movies, and high megapixel pictures. Combined with the built-in 135-minute battery, the P5 is a true mobile projection solution. A stand-alone media powerhouse.

Power Bank Feature
---
The P5 Pico projector can double as an emergency charger for most USB devices. Its onboard 22W Lithium ion battery can deliver 4-5 complete charges (3 watts / hour) for most smartphones. To use see our FAQ section.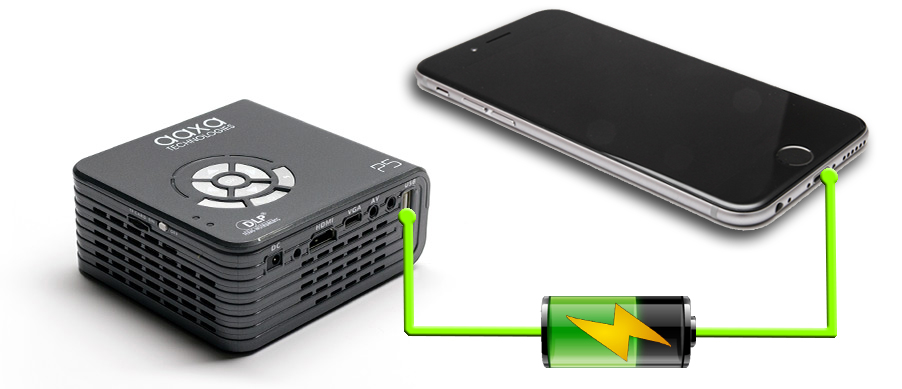 Solid State LED Light Source
---
| | |
| --- | --- |
| Short (instant) warm up and cool down times. With LED Projectors there is no longer the need to wait for long lamp warm-up and cool-down times. | The P5 LED Pico Projector's LED light source enables it to achieve full brightness within seconds. It also turns off instantly, as well. |
Long Operating Life
---
| | |
| --- | --- |
| Conventional lamp-based projectors require frequent bulb changes with very expensive bulbs that cost hundreds of dollars. | The P5's LED light source lasts 10 times longer than conventional lamps, so bulb changes are a thing of the past! |
Versatile Multimedia Support
---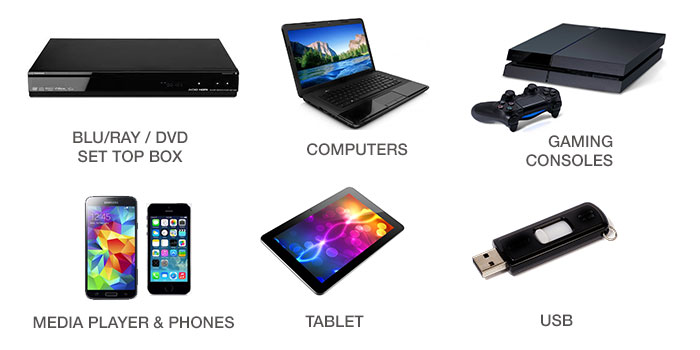 NOTE:
Apple & iPhone connection requires Apple Proprietary cables
Android Smartphone connection requires MHL Cable
Inputs & Connectors
---
Navigation Pad
Charge Indicator
Lens
Focus Wheel
Micro SD
Power Switch
DC
HDMI Input
Mini - VGA
Composite Input
Audio Out
USB Reader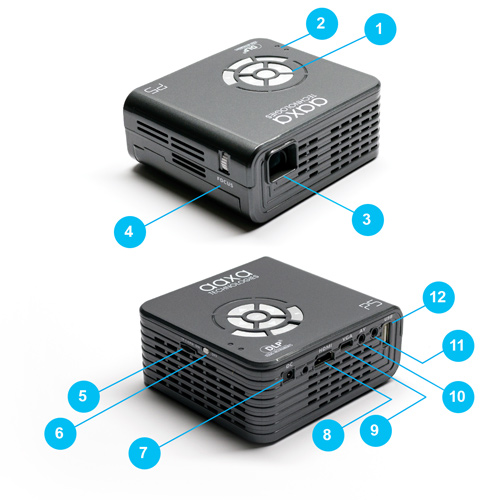 The AAXA P5 Pico Projector light source consumes less power. The LED is also 100% free of mercury and, as the bulb never needs to be replaced, there are no discarded bulbs.