| | | |
| --- | --- | --- |
| | | |
Product Brochure M5 ReviewIT! Contact us

for wholesale inquiries

World's Brightest Mini Projector




900 Lumen 4th Gen DLP Optical Engine
Ultra Portable at 6" x 6" x 1.8"
1280x800 Native HD Resolution
20,000 Hour LED Light Source
70 Minute Lithium Ion Battery
Onboard Media Player
Up to 150" Screen Anytime, Anywhere (in low-light conditions)

MSRP: $599.00
$499.00

*Free Shipping*






$399.99



Why Refurbished?






---
Big Power, Small Form Factor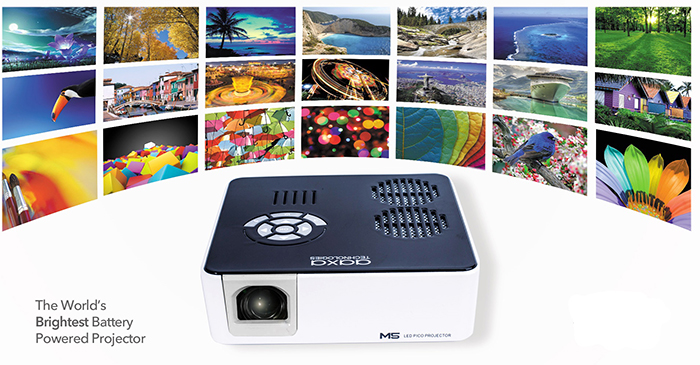 The AAXA M5 is the world's brightest battery powered projector and the world's brightest mobile projector by cubic volume. Producing 900 LED Lumens in "Bright" mode and 500 Lumens in battery mode, the M5 can project up to a 70" screen size in moderately lit rooms and more than a 10 foot screen size in rooms with controlled lighting. Measuring just 6" x 6" x 1.8" and weighing in at a 1.95lbs, this projector is a true micro projector that fits easily in a briefcase, purse, or laptop bag.
High Brightness 900 Lumen Optical Engine
---
The AAXA M5 features an ultra-high efficiency 4th generation solid-state optical engine. At the heart of this engine is AAXA's vibrant color light-emitting-diode technology mated to Texas Instruments DLP imager. The AAXA M5's optical engine produces an amazing 900 LED lumens at peak power.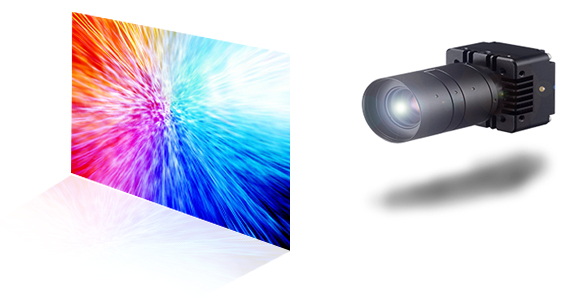 HD WXGA Resolution
---
The M5 features the highest in-class native resolution at WXGA (1280x800), otherwise known as "High Definition," and is the base resolution for Blu-Ray movies. Unlike competitors that claim high resolution through digital scaling, the M5's native resolution is 1280x800 pixels and is capable of scaling resolutions up to 1080P.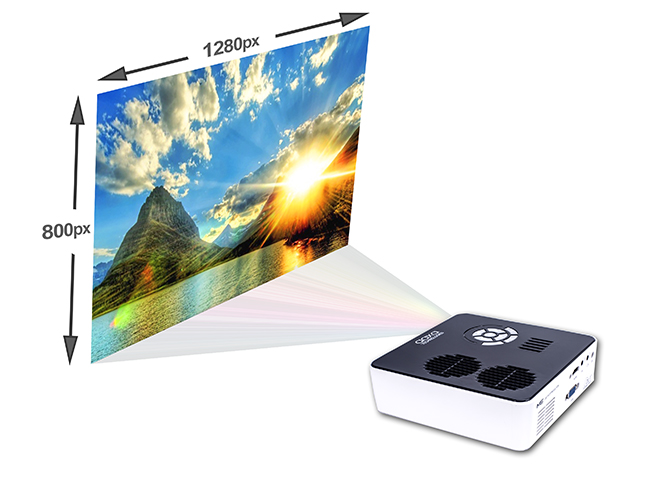 70 Minute Onboard Lithium Ion Battery
---
The AAXA M5 revolutionizes mobile projection with its onboard lithium ion battery that enables anywhere-anytime projection. Powering this system is a 28-watt lithium ion battery that supports a 70 minute operating time (in eco brightness mode)* and produces over 3 times the brightness of other battery powered projectors. This onboard battery is known as a "premium grade" battery that is designed to retain 85% of its charge over 1000 charge cycles. The AAXA M5 mobile projector now gives anyone the ability to deliver presentations without cords!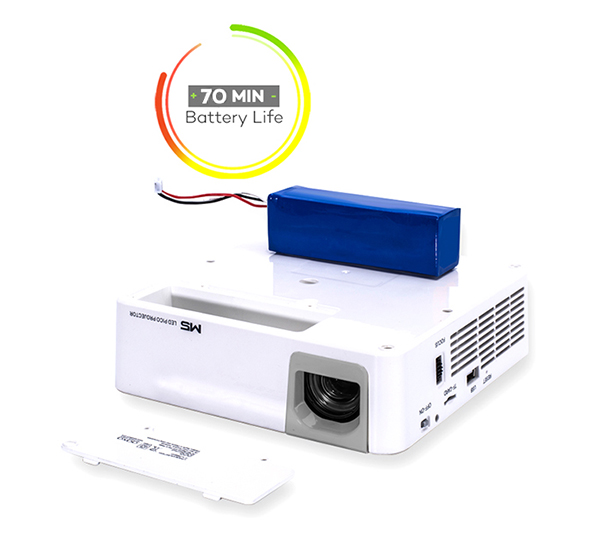 All-In-One Media Projector
---
The AAXA M5 is the ultimate portable projector for business and professional users. It is an all-in-one projection solution that, in addition to its wide array of inputs, includes an onboard media player and digital picture playback capabilities. The powerful onboard media player decodes files directly off a USB stick or Micro SD Card and is capable of handling high resolution videos, movies, and high mega-pixel pictures. This feature allows users to leave the laptop and power cords at home by delivering presentations and videos directly from the projector while fully cordless.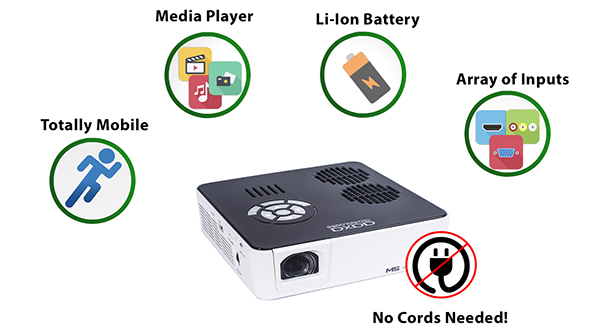 20,000 Hour LEDs
---
The M5 employs a solid-state LED light-source. Unlike conventional projector lamps, solid-state LEDs last 5-10x longer (up to 20,000 hours), create more vivid colors and are more durable than conventional projector lamps.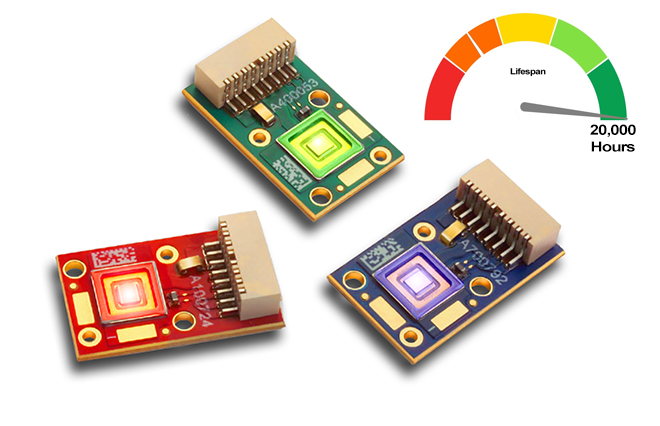 Solid State LED Light Source
---
| | |
| --- | --- |
| Short (instant) warm up and cool down times. With LED Projectors there is no longer the need to wait for long lamp warm-up and cool-down times. | The M5 LED Pico Projector's LED light source enables it to achieve full brightness within seconds. It also turns off instantly, as well. |
Long Operating Life
---
| | |
| --- | --- |
| Conventional lamp-based projectors require frequent bulb changes with very expensive bulbs that cost hundreds of dollars. | The M5's LED light source lasts 10 times longer than conventional lamps, so bulb changes are a thing of the past! |
High Connectivity
---
The AAXA M5 Micro Projector features an array of inputs including HDMI, VGA, and Composite video which enables users to connect an array of data sources, including smart-phones, directly to the projector. With the AAXA M5, professional users can deliver presentations, play videos, and watch digital TV all from a single self-powered device.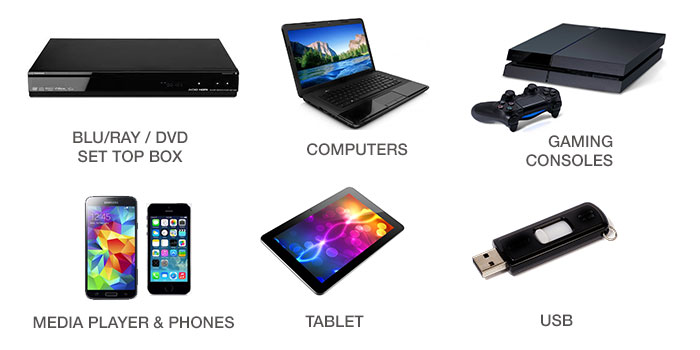 NOTE:
Apple iPhone/iPad connection requires Apple proprietary adapter cable.
Android Smartphone/Tablet connection requires special adapter cable (MHL, Slimport, etc).
Check to ensure your mobile device allows video output.
Inputs & Connectors
---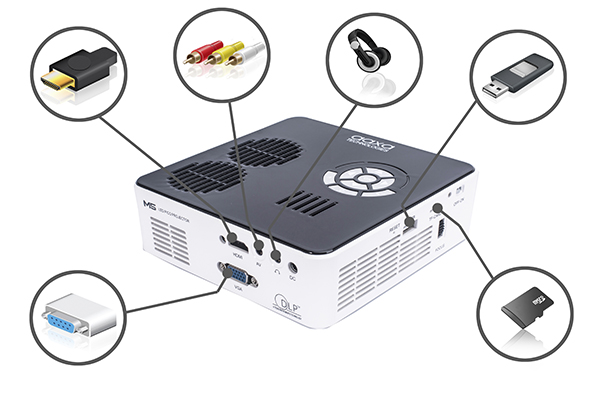 Environmentally Friendly
---

The AAXA M5 Pico Projector light source consumes less power. The LED is also 100% free of mercury and, as the bulb never needs to be replaced, there are no discarded bulbs.